Early this month, we exhibited at Bring It On 2019; A two-day event which aims to inspire 10-14-year olds into exploring a career in STEM industries. Whilst a number of the Gavurin team are active STEM ambassadors, this was our first time attending the event. You can read more about our preparation here.
The Exhibition
Setting up the night before gave us our first opportunity to have a sneak peek at the other exhibition stands. Watching Twizy's whizz around and dodging dancing robots, we wondered if our data analytics game would be enough to spark the student's imaginations…
Amongst the other exhibitors were some of the North East's biggest employers. Regardless of company size, creating something truly engaging requires an investment in time and resource. As an SME we can only take part in a finite number of events. Whilst this is a fantastic cause to get behind, we also felt it was important to be clear about what we could take away from the event.
As part of the exhibitors networking event, our Managing Director, Jonathan Graham shared our reasons for supporting Bring It On, and encouraged more SMEs to get involved by highlighting some of the business benefits we enjoyed…
Being able to 'stand out from the crowd' is a challenge that all businesses face. A clear and compelling message about what you do, and more importantly why you do it is fundamental to this. As a small business working in an ever-evolving industry, Gavurin are constantly challenging and refining how to best convey what we're about. A few thousand 10-14-year olds is not an audience we normally get access to, so we used Bring It On! as an opportunity to stress test how clear and engaging our messaging is. Young people let you know pretty quickly if they're bored!
This type of event helped us by putting our business under the microscope as we all know that kids ask the most difficult questions. Expecting plenty of "But why?" and hand-holding, we were pleasantly surprised to find out how well many of the students understood the basics of interpreting data and charts.
Music4STEM
Across the two days, our game (Music4STEM) was played 241 times by students (and many more by our inhouse team who were determined to get the high score). That equates to c.10% of the total audience! Given a) the game takes a few minutes to play, and b) our stand was directly opposite Cake Bash creators, High Tea Frog, we're pretty pleased with that. Several teachers also approached us to say that this was exactly the type of tool they would use in a classroom setting, and several students asked if they could play the game at home after the event.
The game, in essence, is a fun, accessible representation of what we do. We used custom datasets to create a number of interactive data visualisations. The students used these as the basis of their decision making, enabling them to organise a music concert to raise money for STEM without exceeding their budget.
You can try the game for yourself here (NOTE: This game has been designed for desktops and therefore is not yet compatible with mobile devices)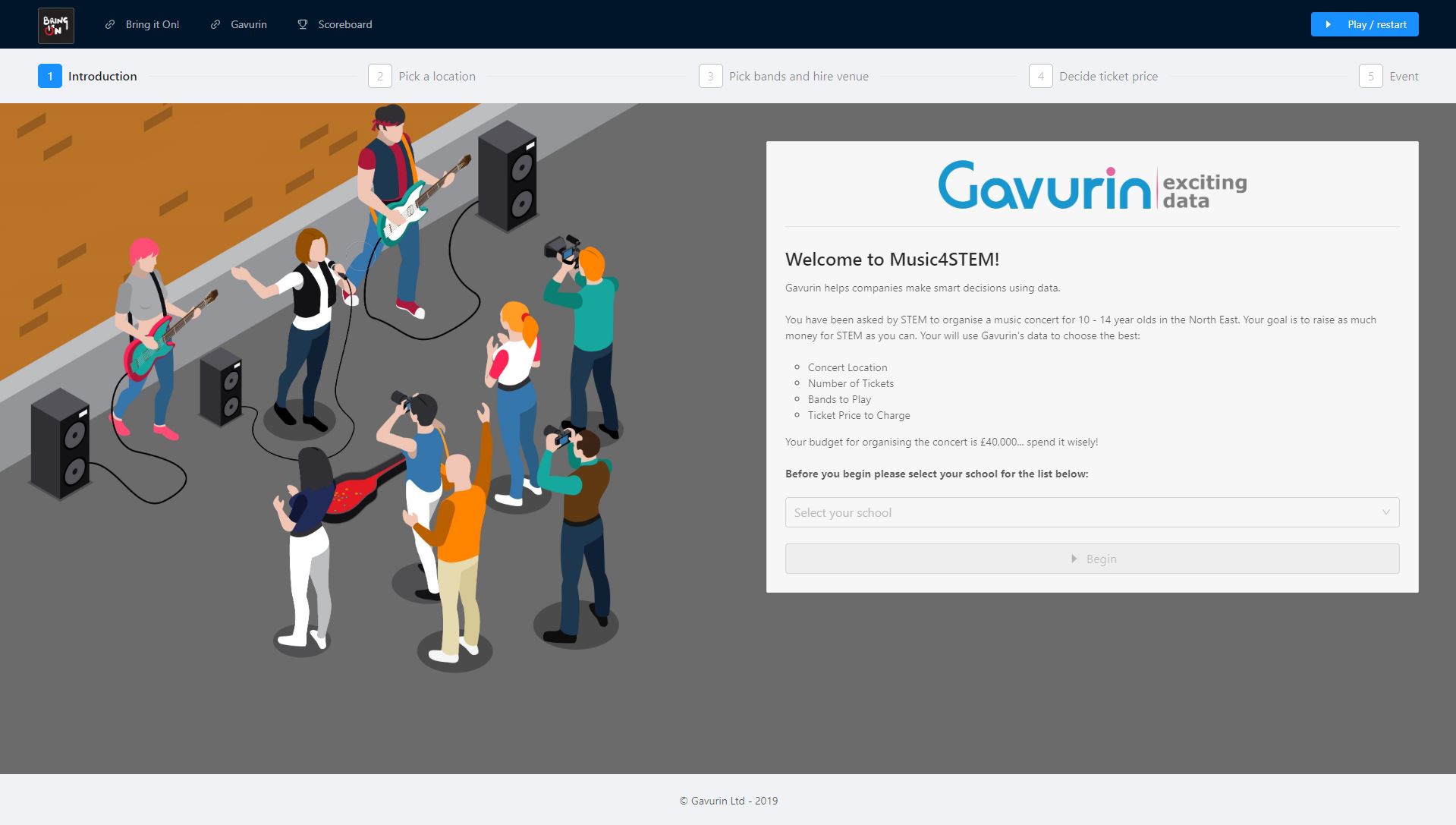 In Summary
The main question we need to ask ourselves is: will we do it again?
In short, yes.
The effort we put into creating Music4STEM was incredibly rewarding. For SME's, having a limited amount of time to support worthwhile causes can lead to some tough decisions. Understand some of the spin-off benefits, such as teamwork, morale boost and flexing our creativity, can make the decision-making process easier. We're proud of what we developed for Bring It On 2019, the kids got a lot out of it, and ultimately so did we which is why we'll be back next year.
If you're interested in taking part, keep watching the Bring It On website for registration details.