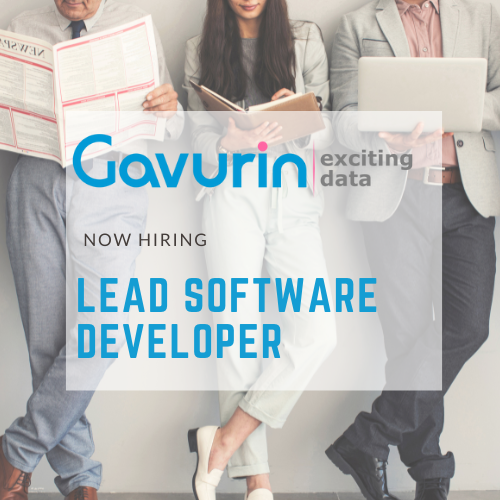 Lead Software Developer
Salary: up to £50,000 per annum
Hours: Monday- Friday 9am-5pm (flexible)
Location: Newcastle upon Tyne
Remote Working: Hybrid – regular travel to the office required for meetings and collab
Overview
Gavurin is SaaS company based in Newcastle upon Tyne City Centre. We help businesses turn data into business insight through a range of bespoke, custom built technologies including content automation and visualisation platforms, analytics, and data management.
Our Glass platform is used and trusted by global business intelligence providers.
We were shortlisted for Employer of the Year North East England Chamber Business Awards 2020. 
We are recruiting for the role of a Software Developer to be based in our Newcastle offices on a permanent contract.
The Role
As an experienced Software Developer, you will work closely with our Technology Director to help shape the future of the business by championing innovation and best practice. You will be an advocate of agile development, able to lead others through all aspects of the development lifecycle, and understand how to incorporate security, quality, and maintainability at all stages.
Your primary focus will be developing the next generation of our flagship product line… Glass. Glass is a full lifecycle content automation platform, that enable teams to create, manage, and publish data-fuelled content at scale.
https://www.youtube.com/channel/UCuClamMPLvePovj0dTR8egw
You will understand and influence the overall product roadmap and propose the best technical path for its delivery. Will take responsibility for ongoing implementation, overseeing and supporting the technical team as you go.
Alongside this you will also support our existing products and pro-actively input towards  the advancement of internal tools and processes.
About You
As a small business, we expect all members of the team to take ownership of their roles and seek out new opportunities for the company.
You will be proactive and creative in your approach to work and be a natural problem solver with an analytical mind.
You will be ready to learn new and emerging technologies and have up to date industry knowledge, along with minimum 4 years professional experience in most of the following:
Microsoft technology stack, including as a minimum .NET Framework/Core, SQL Server
Azure Cloud technologies
Integration technologies, such as authentication frameworks and API standards.
Build automation tooling
Software testing
Supporting business critical applications
About Us
We believe in the power of exciting data to deliver real, positive change in business and society. We do this by making meaningful differences through our work and our commitment to our local area. Our employees are empowered to learn, grow and lead. They in turn provide advice and design solutions which empower clients with the ownership and agency to lead change with data.
Working in a close-knit team, all employees are encouraged to bring ideas to the table, explore new and exciting opportunities within the business and stay up to date with emerging technologies and solutions.
Some of our key benefits:
Flexible Working
If 2020 taught us anything, it is how important it is to be flexible. This is why we've introduced a mixture between office and remote working for all employees.
Holidays
Holidays are key to a balanced and productive life. You'll start with 25 days (plus Bank Holidays) and that entitlement will build up to 30 days. You can also 'buy' up to 3 additional days' leave – useful for that extra special event. This applies after 2 years' service and you can spread the cost of your 'purchase' over the leave year.
Pension Scheme
We've always been ahead of the game on pensions; we think they are important. So, to help you be as comfortable as possible when you retire, we match your own contributions up to 9% of your salary.
Courses & Conferences
We know that everyone likes a trip away from the office every now and then. If you find a course, conference or event that you think will advance your learning then we'll happily arrange for you to attend.
Birthdays
No one likes working on their birthday. If your birthday falls on a weekday, we'll give you the day off. If not, well there's always next year.
State of the Art Offices
We are located in a restored 1850's Racquets Court within a few minutes' walk of the City's pubs, bars, theatres, and department stores. We restored the building ourselves – so its designed with our people in mind. The Racquets Court in equipped with the best furniture and equipment from across Europe and connectivity to Newcastle's open metro network.
Social Events
We like to look after our team wherever possible. If we're out as a team having fun, then we don't want you worrying about how much it is costing you. Generally, we'll pick up the tab. We also like to treat the whole team to monthly team lunches from some of our favourite local eateries. 
Ready to get started?
Apply Today
Or phone us on +44 (0) 191 323 3306